Expedited Filtration Solution Helps Launch Mobile Hand Hygiene Station in Just 4 Weeks
June 23, 2020
Rochester, N.Y.—R.P. Fedder Industrial, LLC worked with long-time customer Excel Dryer to develop a filter solution for a new, portable hand drying station. By repurposing a complex, high-performance air filtration element, R.P. Fedder helped Excel Dryer launch their new Mobile XLERATOR® Hand Hygiene Station in just four weeks.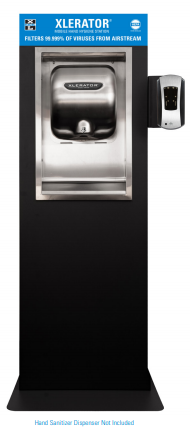 Proper hand hygiene, according to both the World Health Organization and the Centers for Disease Control and Prevention, entails thoroughly washing hands for at least 20 seconds, and then drying them completely.  Excel Dryer sought to make the benefits of its touchless XLERATOR® Hand Dryers, found in restrooms throughout the world, available as part of a mobile unit for use outside the restroom. This can bring proper hand hygiene wherever it is needed most, such as temporary facilities, field sites or positioned at building entrances. Representatives reached out to R.P. Fedder, who custom manufactures HEPA filters for Excel Dryer, to develop a solution for the new stations.
"In light of the COVID-19 crisis, our team put in valiant efforts to respond quickly to Excel's needs. We leveraged our experience making HEPA filters to create a low-cost, high-volume filter optimized for their intended use," says Chris Fox, president of R.P. Fedder.
The recently launched Mobile XLERATOR Hand Hygiene Station provides an efficient, hygienic, touchless solution to meet the hand drying needs of medical workers, eldercare staff and others on the front lines of the COVID-19 crisis. The station is equipped with an XLERATOR Hand Dryer with a HEPA Filtration System proven to dry hands in as little as eight seconds. The station eliminates the multiple unnecessary touch points that come from using paper towels, including storage, restocking and germ-laden removal of used towels. For an added level of protection, it features a hand sanitizer bracket so facilities can add a touchless hand sanitizer dispenser for the ultimate hand hygiene solution..
Recent viral filtration efficiency testing conducted by LMS Technologies found the HEPA Filtration Systems manufactured by R.P. Fedder Industrial, LLC and used in XLERATOR Hand Dryers remove 99.999 percent of viruses from the airstream.
"We wanted to utilize the R.P. Fedder filter solution as much as possible and figured out a way to mobilize our units, which helped us meet the needs of workers at outdoor COVID-19 testing sites and other essential facilities during the height of the pandemic," said William Gagnon, vice president of marketing and sales at Excel Dryer. "The mobile units will continue to meet new and evolving hand hygiene needs in and outside of the restroom."
R.P. Fedder designs and manufactures custom filters for thousands of engineered products used in industrial and medical applications. The company also warehouses and distributes a wide range of standardized air filters, liquid filters and commercial filtration equipment.  More information about R.P. Fedder is available on the company's website: http://www.rpfedder.com/. More information about Excel Dryer or its hygienic products is available at http://www.exceldryer.com/.