Rensa ENDUREX HD
RP Fedder is happy to offer customers one of the best high capacity pleated air filters on the market: the Endurex HD pleated filter by Rensa Filtration.
Get a Quote
View Specs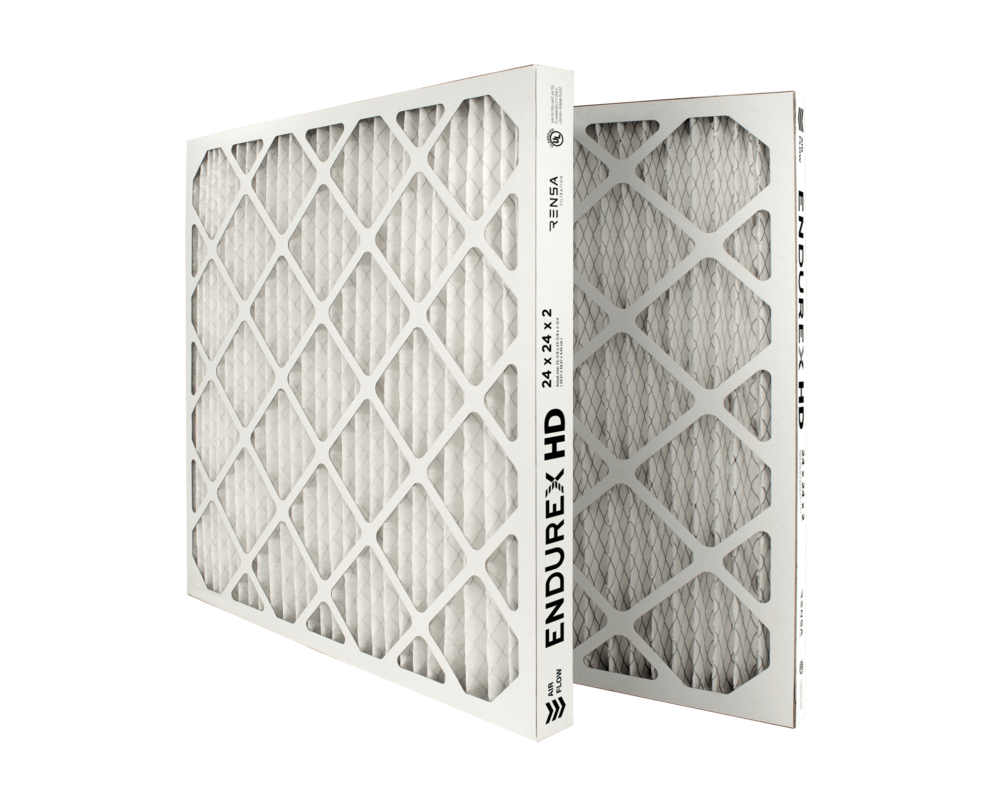 MERV 9/9A to Protect Coils and Ductwork
Highly durable uniform size synthetic with exceptionally low resistance to air flow.
Maximum Service Life
Higher quality filters with a longer lifespan will lower your energy costs.
Lowest Resistance to Airflow
Reduces initial pressure drop by 30% or more over previous best-in-class products.
ENDUREX HD: Heavy Duty High Capacity Pleated Air Filter
This filter is a game changer, made with the heaviest high wet-strength board frame, 2x thicker wire, best-in-class pressure drop, and a mechanical media for the most demanding applications. If you're a fan of Camfil's 30/30 Dual 9, then you will love the Endurex HD. Compared side by side, the Endurex HD costs less to buy and is cheaper to operate due to its lower pressure drop. Simply put, it offers one of the longest service lives of any filter available on the market today.
Features
Frame: Constructed with a heavy moisture-resistant beverage board frame, which enhances the filter's durability and resistance to moisture.
Pleat Support: Utilizes the thickest expanded wire for pleat support, adding to the filter's strength and stability.
MERV 9/9A Efficiency: Click here to refer to our informational MERV rating chart for more details.
Mechanical Synthetic Media: combines the MERV life of glass media and the low air resistance of synthetic media.
Support Grid: Equipped with a heavy galvanized metal support grid that adds further structural integrity to the filter.
Moisture Resistance: This filter is bonded with a moisture-resistant sealant to prevent damage from humidity and moisture.
Benefits
Strength: The filter is exceptionally strong, making it suitable for tough commercial and industrial environments.
Low Air Resistance: The mechanical synthetic media reduces initial pressure drop by 30% or more over previous best-in-class products such as Camfil 30/30 Dual 9
Dust Holding Capacity: The combination of low resistance and high dust holding capacity means the filter can capture and retain a significant amount of particulate matter.
Longevity: Due to its durability, low initial pressure drop, and high dust-holding capacity, the Endurex HD filter is one of the longest lasting pleated filters available.  Guaranteed.
Applications: Designed for use in various challenging environments, including:

Turbulent Airflow Systems
Heavy Load Situations
High Flow Rate
Extreme Weather Conditions
High Moisture Units
Long Life Desired
Customers who need durability, efficiency, low pressure drop and an attractive price should consider the Endurex HD. All you have to do is pick up this filter to immediately see what an improvement it is over the competition. Find out more by contacting us today.