Breathing deeply should come with the promise of clean air.
As owner or manager of a gym, fitness center, or exercise studio, you want to ensure the health, safety, and comfort of those who use your facility. To prevent the unwanted spread of viruses, bacteria and other airborne contaminants, experts recommend installing air purifiers.
Air purifiers come in a range of sizes and have different features that make them effective against a variety of air pollutants, including COVID-19.
| | | |
| --- | --- | --- |
| | | |
| Purafil PuraShield® Mini Portable Air Purifier | Purafil PuraShield™ 500 Room Air Purifier | UVDI V-PAC™ SC Self-contained Air Purification System |
| 2.35 CFM | 250 CFM | 265 CFM |
| 50 dB | 42 – 60 dB | 48 – 68 dB |
| 2 speeds | 3 speeds | 6 speeds |
| 7.9 x 5.6 x 2.4" | 14.5 x 14.5 x 23" | 21.6 x 7.9 x 18.5" |
| 2 lb. | 50 lb. | 26 lb. |
| Copper and silver ion, UV light | Copper and silver ion, sodium permanganate | UV-C |
| 99.9% reduction of bacteria and viruses | Removes 99.99% of aerosols containing viruses. Removes 99.97% of all particles larger than 0.3 microns | Removes 93% of germs (bacteria, viruses). Removes 90% of VOCs, smoke, odors. Removes 99% of particles larger than 0.3 microns |
| Ships in 1-2 weeks | Ships in 1-2 weeks | Ships in 4-6 weeks |
| $99.99 | $1,299.99 | $1,299.99 |
| | | |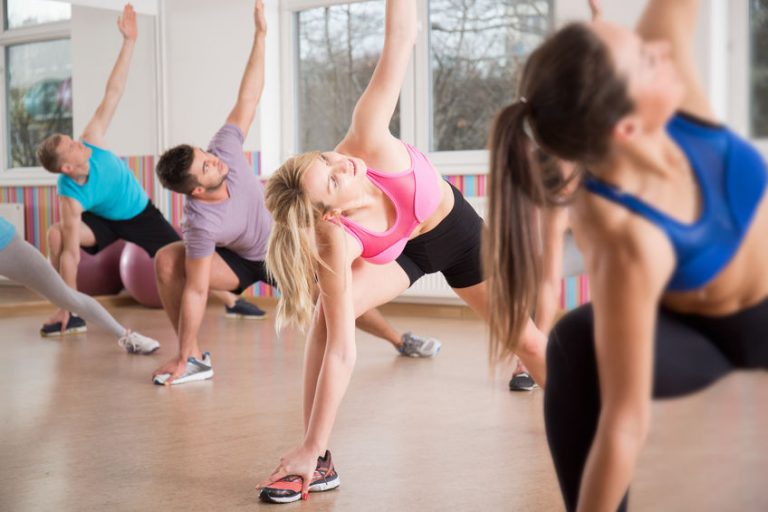 Multi-Point Safety Strategy During a Pandemic
Limit occupancy
Socially distance
Wear masks
Wash hands
Disinfect surfaces
Install MERV 11 air filters in HVAC units
Create better ventilation
Use air purifiers!
When you take visible steps to protect your members, the results speak for themselves.
When gyms, fitness centers and exercise studios have clean-air measures in place, members feel safer and are more likely to recommend their friends & family join. (Word-of-mouth promotion!)
Fewer sick days for staff – keep your establishment running smoothly.
Frequently Asked Questions
Should gyms and exercise studios use air purifiers?
If properly sized, air purifiers can remove >99% of aerosolized viruses and bacteria caused when people cough, sneeze, breathe heavily, or talk loudly. Air purifiers can be connected to HVAC systems, and portable air purifiers can be added to group fitness rooms, locker rooms, snack areas, and more. Some experts believe that fitness centers, gyms & exercise studios without proper air cleaning measures in place serve as a primary vector for the spread of COVID viruses. Therefore, many state and local governments have increased the HVAC filtration standards to MERV 11 to help remove viruses from the air, and the CDC has recommended additional air cleaning measures, such as air purifiers.
Can air purifiers work on flu and COVID viruses?
Air purifiers can remove and kill over 99% of airborne bacteria and viruses – including those that cause COVID-19 and the flu – by filtering aerosols with microfiltration, and with germicidal technologies including silver- and copper ion filtration, chemical filtration, and UV light. All air purifiers we sell are tested and shown to be effective at removing viruses and bacteria from room air. To effectively remove viruses from the are in high-traffic locations, air purifiers should be sized to assure six to ten room air changes per hour.

News Resources
Covid Superspreader Risk Is Linked to Restaurants, Gyms, Hotels: The reopening of restaurants, gyms and hotels carries the highest danger of spreading Covid-19, according to a study that used mobile phone data from 98 million people to model the risks of infection at different locations.

Making Gyms Safer: Why the Virus Is Less Likely to Spread There Than in a Bar: After shutting down in the spring, America's empty gyms are beckoning a cautious public back for a workout. To reassure wary customers, owners have put in place — and now advertise — a variety of coronavirus control measures. At the same time, the fitness industry is trying to rehabilitate itself by pushing back against what it sees as a misleading narrative that gyms have no place during a pandemic.