Keep your establishment open, clean and safe no matter what's in the air.
As a restaurateur, you want to stay open, fill tables and ensure the health, safety, and comfort of your guests and staff. To prevent the unwanted spread of viruses, bacteria and other airborne contaminants in your restaurant, experts recommend installing air purifiers.
Air purifiers come in a range of sizes and have different features that make them effective against a variety of air pollutants, including COVID-19.
| | | |
| --- | --- | --- |
| | | |
| Purafil PuraShield® Mini Portable Air Purifier | Purafil PuraShield™ 500 Room Air Purifier | UVDI V-PAC™ SC Self-contained Air Purification System |
| 2.35 CFM | 250 CFM | 265 CFM |
| 50 dB | 42 – 60 dB | 48 – 68 dB |
| 2 speeds | 3 speeds | 6 speeds |
| 7.9 x 5.6 x 2.4" | 14.5 x 14.5 x 23" | 21.6 x 7.9 x 18.5" |
| 2 lb. | 50 lb. | 26 lb. |
| Copper and silver ion, UV light | Copper and silver ion, sodium permanganate | UV-C |
| 99.9% reduction of bacteria and viruses | Removes 99.99% of aerosols containing viruses. Removes 99.97% of all particles larger than 0.3 microns | Removes 93% of germs (bacteria, viruses). Removes 90% of VOCs, smoke, odors. Removes 99% of particles larger than 0.3 microns |
| Ships in 1-2 weeks | Ships in 1-2 weeks | Ships in 4-6 weeks |
| $99.99 | $1,299.99 | $1,299.99 |
| | | |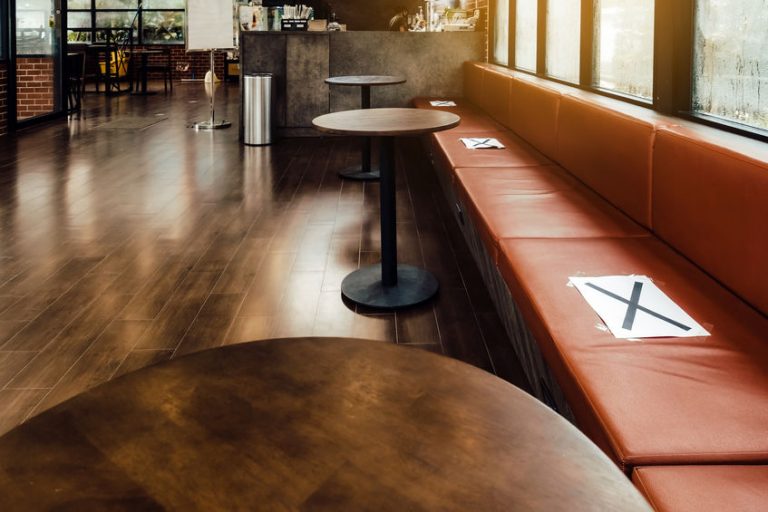 Multi-Point Safety Strategy During a Pandemic
Limit occupancy
Socially distance
Wear masks
Wash hands
Disinfect surfaces
Install MERV 11 air filters in HVAC units
Create better ventilation
Use air purifiers!
When you take visible steps to protect your patrons and staff, the results speak for themselves.
More confidence for customers creates loyalty – keep them coming back!
Fewer sick days for staff – keep your establishment running smoothly.
Frequently Asked Questions
Should restaurants use air purifiers?
If properly sized, air purifiers can remove >99% of aerosolized viruses and bacteria caused when people cough, sneeze, talk loudly or sing. Air purifiers can be connected to HVAC systems, and portable air purifiers can be added to dining rooms, kitchens, and break rooms. Some experts believe that full-service restaurants without proper air cleaning measures in place serve as a primary vector for the spread of COVID viruses. Therefore, many state and local governments have increased the HVAC filtration standards to MERV 11 to help remove viruses from the air, and the CDC has recommended additional air cleaning measures, such as air purifiers.
Can air purifiers work on flu and COVID viruses?
Air purifiers can remove and kill over 99% of airborne bacteria and viruses – including those that cause COVID-19 and the flu – by filtering aerosols with microfiltration, and with germicidal technologies including silver- and copper ion filtration, chemical filtration, and UV light. All air purifiers we sell are tested and shown to be effective at removing viruses and bacteria from room air. To effectively remove viruses from the are in high-traffic locations, air purifiers should be sized to assure six to ten room air changes per hour.

News Resources